to think of the past couple days it can be summed up in...
.
BIG TROUBLE in little vancouver was a little disappointing for me. it was crazy hot in there!! and i stepped out then stepped in and it smelt like lint and the stuff under my toe nails. that and for some reason when theres battles in the middle of downtown vancouver it attracts all the slack jawed gawkers and the goofy sweat pants types.. i heard a lady say "ENOUGH !! LET'S SEE THE KIDS BREAKDANCE!!" probably intent on getting her child to soccer practise on time. but whatever a battles a battle and bboys are like masters of optimism the cyphers were HOT.
you gotta give kim the respect due for pulling it together
, a
big
props from me at least. and hey any battle where jim gets his first kiss from a big sweaty black man can't be too bad can it? hellz no.
i was too high off the chi force flowing in the room to take any pictures so i only took two and one was blurry hahaha
my pupil chris SOUL park
i enjoy this photo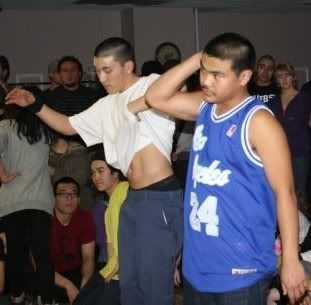 style force was heating the cyphers all night i'm pretty sure every member of the crew smoked someone at some point that night. makin hella waves StyleForce .. did anyone see this kid.....
...............................
rye0ne
loves his nikon